In this rating I collected the most functional multitools. Each multitool is really more than individual. Lets find best survival multi tool!
Leatherman Skeletool Multitool
All advantages for surviving: knife blade with the possibility of opening with one hand, there is a thumb hole and a locking system, steel 420HC (in the updated version, sharpened combined, partially serreted), universal pliers with thin pliers, carabiner with built-in bottle opener, clip-fastening for carrying in the pocket.
Leatherman Wave Plus Multitool, Stainless Steel
I think this is a king of EDC multitools. In the previous ranking, he took first place for the quality of performance, compact size and a good collection of tools. This tool #1 in our rationg of best multitool's for EDC.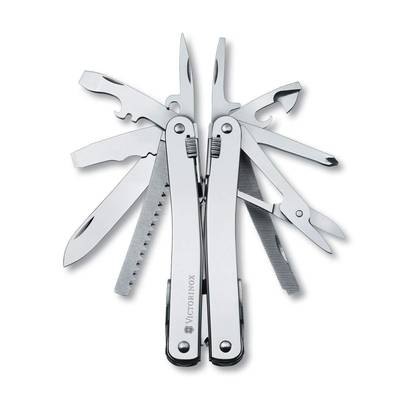 Victorinox SwissTool Spirit X
Very interesting multitool with many pros: clear fixation of the handles in any position, powerful plier, optimal a set of tools, the ability to extract any tool without opening the pliers, smooth edges of the handles, do not suck in the hand at the effort, ruler on the handles, the possibility of a corkscrew (depending on the configuration), a separate bit screwdriver.
Gerber Suspension Multi-Plier
It's a good choice for such a price. You do not so much upset if you lose him in the woods or on trekking.
Off Grid Tools – Survival Axe
Heavy tool, really indispensable in some expeditions and is useless in some cases.
Leatherman Charge Plus
Excellent blade from the S30V, pleasant grips, well sharpened, securely fixed, acceptable dimensions, the presence of interchangeable bits for a screwdriver.
Victorinox Swiss Army Swiss Champ SOS (Red)
This is really functional and lightweight, but very expensive 🙁
SOG PowerAssist
Not good for surviving because for access the tools you need to open the pliers. I add PowerAssist here because see them in TOP 3 other ratings. Remember, PowerAssist is bad choise for surviving.
Carabiner Keychain 100% Titanium Multitool
Simple, light and effective, take them to all my trips. Here we have: screwdriver, universal key, ruler and good quality carabiner.